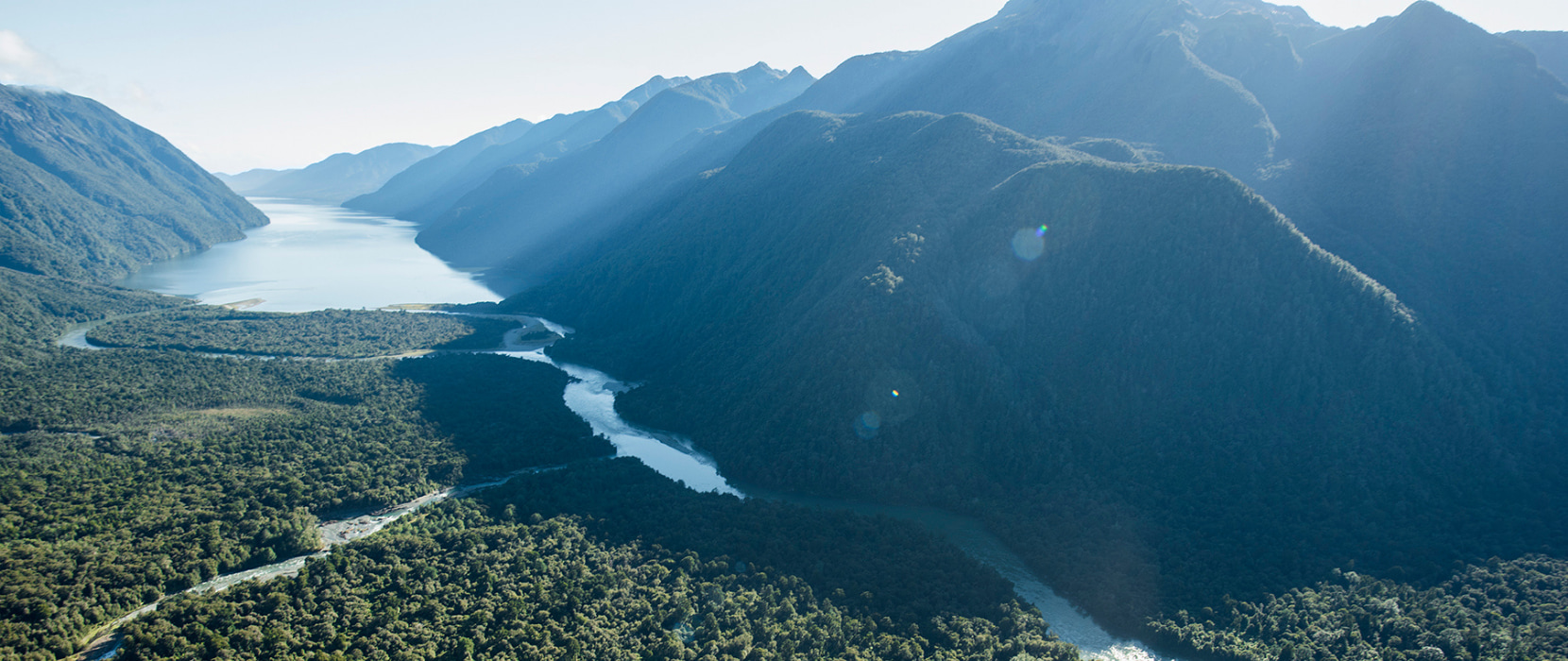 History of the Hollyford Valley
On the Hollyford Wilderness Experience you virtually step back in time and experience an ancient spectacular landscape with a unique and intriguing ecology, geology, and geography and a fascinating history of human endeavour that dates back to the very first people to settle in this land, Aotearoa (New Zealand).
The first people to arrive in the area were Māori exploring for food and resources. A coastal village at Martins Bay evolved, becoming an important settlement between 1650 and 1800. Here the tribe gathering abundant seafood, and gained access to food resources in the nearby forests and lakes, and carved waka from the giant trees of the forests. They were also able to control access into and out of the highly prized pounamu sources in the region. Ancient Māori middens have been found on the sea side of the estuary on Martins Bay Spit.
European Arrivals
Explorer James Cook visited the area and was overawed by this land of mountains and wild coastline. Captain Alabaster, a whaler, was one of the first Europeans to explore the valley. In 1863 he met Ngāi Tahu chief Tūtoko at Martins Bay and named the chief's daughters Sara and May. Dr. James Hector, the first provincial geologist of Otago, visited later the same year and named the hills either side of Martins Bay after the girls.
Dr. Hector travelled up the Hollyford Valley and across the Southern Alps to Queenstown, and reported favourably on timber, indications of gold, iron, copper and zinc in the area. He also suggested a road through the area could be built, a controversial idea that occasionally still arises today.
Attempted development
Sealers, whalers, gold hunters and fortune seekers soon arrived to settle the area; they started to build a small town, known as Jamestown, and attempted to clear the lowland forests for farming. But it is a harsh and unforgiving landscape and despite the best endeavours of these people they couldn't tame the land leaving Jamestown and the settlement at Martins Bay doomed by the conditions and isolation.
Today all that remains of Jamestown is the site marked by ancient rose bushes and apple trees. At Jerusalem Creek there is a sycamore tree that was planted by the early settlers and a few straggly rose bushes also survived further up the coast at Big Bay.
A few hardy settlers stayed on and among them were Hugh and Malcolm McKenzie, who moved to the bottom end of Martins Bay Spit. They raised cattle and drove them to sale-yards at Mossburn over 250kms away from Jamestown. In 1926 the McKenzie brothers sold their cattle run to Davey Gunn, who continued the cattle trade and started guiding tourists through the Hollyford Valley, until his death by drowning in the Hollyford River in 1955.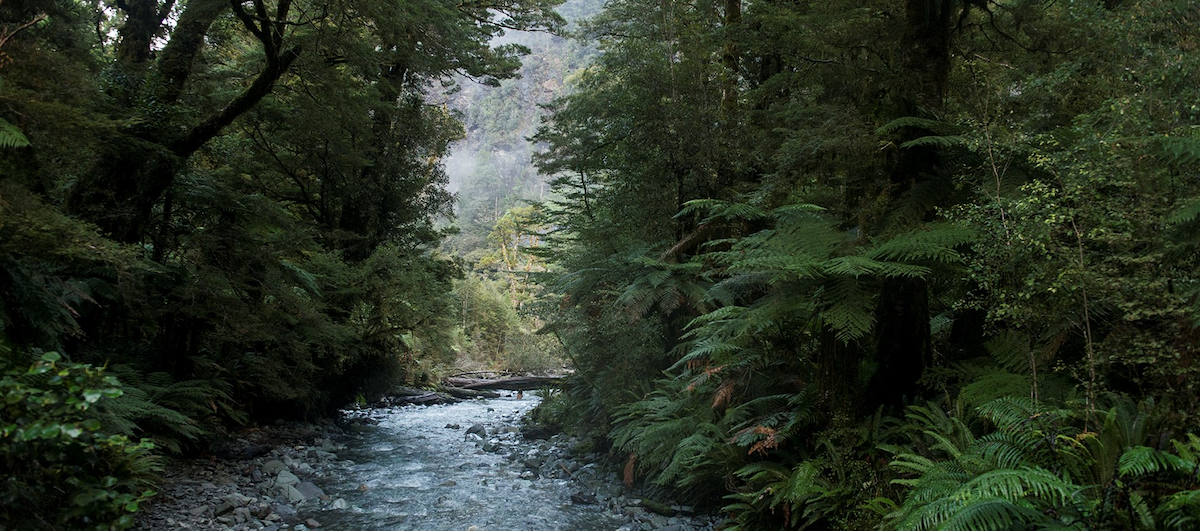 Track History
How it Began
The Hollyford Track started life back in the 1930s when farmer and local legend Davey Gunn began guiding guests through the valley as part of his cattle musters. The trip then was more about joining Davey on a cattle muster up the valley rather than a true guided walk and the walk aspect was developed more by one of Davey Gunn's assistants, Ed Cotter.
In 1959 Hollyford Valley was incorporated into Fiordland National Park meaning previous attempts to farm the area were no longer permissible so Ed put even more focus into developing a more focused guided walk. In the mid sixties he introduced boating into the walk itinerary to bypass the notorious Demon Trail and shorten the trip.
Ed struggled to make a living from the walk and in 1968 Jules Tapper and Viv Allot took up the ailing business, registered Hollyford Tourism Company and conducted their first season of operation in the summer of 1969 / 1970.
Trip upgrades
Jules and Viv purchased a 21 foot diesel powered launch 'Davey Gunn' and put her on Lake McKerrow in 1969, followed by two 18 foot alloy jet boats shortly thereafter. These jet boats were the first alloy V nosed fine stemmed commercial jet boats in New Zealand. Jules and Viv also made extensive additions and improvements to the buildings that were originally in the area as prior to this there was no electricity, running water, bathrooms or toilets in either of the lodge sites. In addition they developed their own airstrips to make the operation viable and self sufficient as there wasn't, and still isn't, any road access.
In the late 1990's the company was sold to Peter Archibald, Stephen Fisher, Matthew Rose, and Mo and Louise Gardiner who set about making extensive improvements, including the refurbishment and extension of Waitai Lodge accommodation block and bathroom unit, the building of a new Ka Tuku Lodge, the purchase of a new twin engine jet boat and a 20 seat shuttle. A strong customer focus was also introduced with time and effort being placed on getting the product right for the customer. The result being a 100% recommend rate of the Hollyford Track to friends and family from the 1500 of their customers that were surveyed.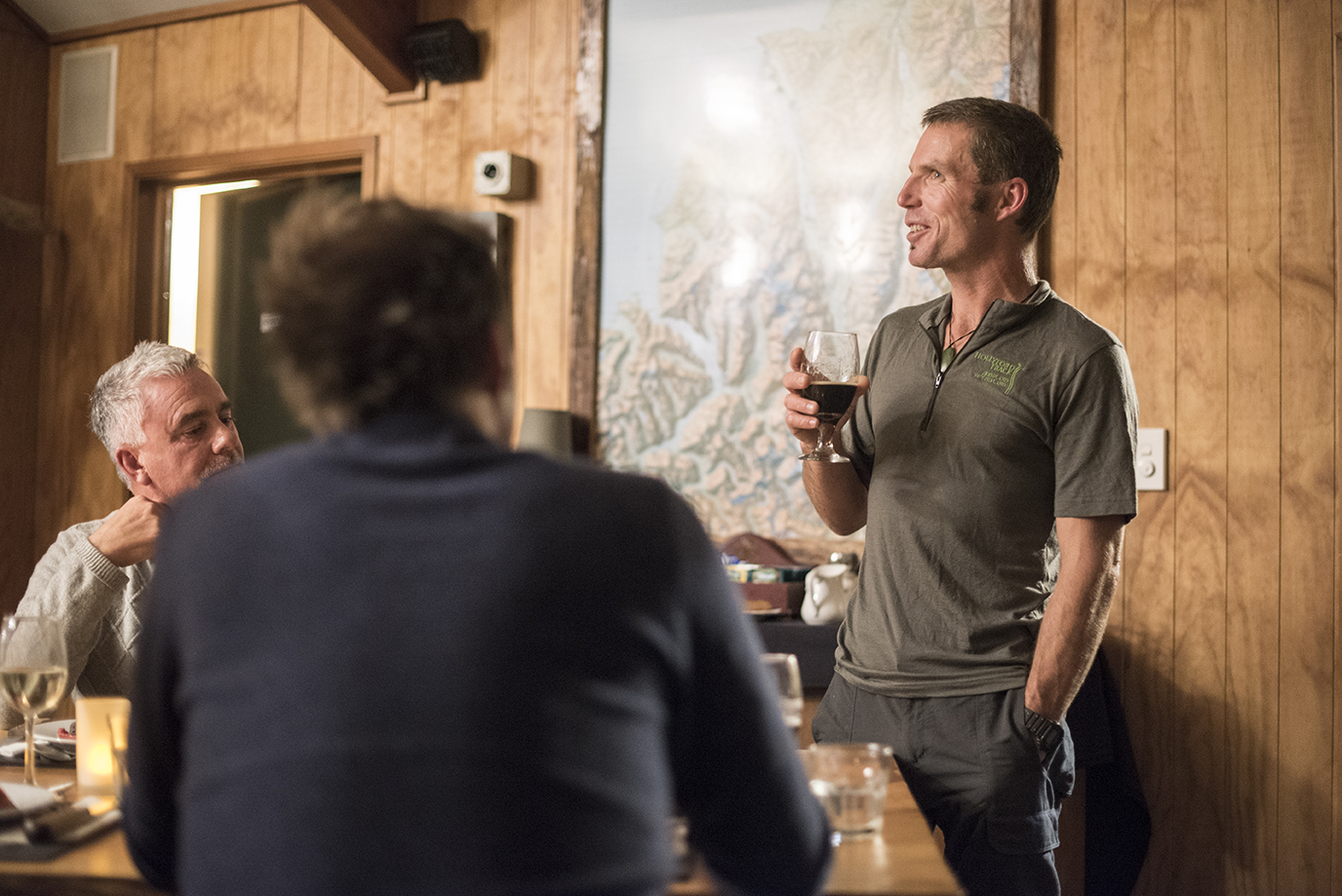 Ngāi Tahu Tourism
In June 2003, Ngāi Tahu Tourism recognised the potential of the Hollyford Track and purchased the business to complement its (then) other high quality, iconic tourism companies including Shotover Jet, Dart River Jet Safaris, Franz Josef Glacier Guides, Rainbow Springs and Hukafalls Jet.
Ngāi Tahu Tourism have invested heavily in Hollyford Track bringing it to the highest of standards that it is today with a refurbished lodge at Pyke River and a new lodge at Martins Bay, plus significant investment in upgrading or replacing much of the previous the plant and facilities. Today the Hollyford Wilderness Experience is renowned as one of New Zealand's greatest walks with a diversity of experiences and premiere delivery which are unequalled by any other walk in the country.
Ngāi Tahu Tourism will continue to invest in Hollyford Track, not only as one of New Zealand's premiere wilderness experiences but also as Hollyford Valley plays a significant role in the history and heritage of the Ngāi Tahu people.
Evidence of Ngāi Tahu's connections to the Hollyford Valley can be seen in the many place names of the area. Each geographic feature was named, acting as oral memory aids preserving the histories of several layers of settlement spanning centuries including the people of Waitaha, Rapuwai, Ngāti Wairangi and finally Ngāi Tahu. These oral survey pegs of the past follow the ancient pounamu (greenstone) trails beginning in Te Awawhakatipu (Dart River) and cross Kā Mauka Whakatipu (Ailsa Mountains) before descending to Whakatipu Katuku (Hollyford River) through to Whakatipu Waitai (Martins Bay).
With Ngāi Tahu's migration into Te Tai o Poutini (Westland), the lands were subdivided among the leading chiefs of the conquering hapū (tribe). Tūtoko's (a local chief) Ngāi Kaipo (sub tribe) were given charge of Whakatipu Waitai which was well known as part of the pounamu trails leading from Te Tai o Poutini to Murihiku (Southland), but also as an important mahinga kai (food gathering site) and waka (canoe) building centre around Lake Alabaster or Wawahi Waka (to split trees for canoes).
Ngāi Tahu Tourism's association with the area enables the Iwi to add an additional layer to their presence and their voice as a key stakeholder in the area and recognition of their kaitiakitanga (guardianship) over a landscape that bears their histories.
Find out more about Ngāi Tahu Tourism